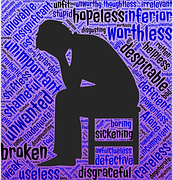 3 Ways To Help You When Feeling Depressed
Everyone feels sad at times. Sadness is a normal emotion. But when you can't shake off that sad feeling for a long time, it could turn into  depression. Different things could cause symptoms of depression. A break up, a fight with a friend, loosing your job…sometimes just simply growing up and feeling confused.
However,  you can do a few things to help alleviate those negative symptoms.
Here are some proven ways to reduce symptoms of depression. If you practice these consistently, slowly you'll start to feel some relief and start getting back on track.
1. Surround yourself with positive people.
This is hard to do when you just want to be left alone. Being depressed could make you want to sleep all day and care less about anyone else. However, staying alone could make those symptoms of depression stay longer than it should.
Studies have shown that our relationships are a major factor in giving us a sense of connection to others. If the cause of your depression is the negative relationships in your life, take small steps to try to limit your interaction with those people. I know, easier said than done. Setting boundaries and standing up for yourself is something that therapy can teach you to do.
If you don't have positive, supportive, caring people around you, surround your mind with people you never met through listening to Podcasts, reading uplifting books and watching motivational You Tube videos. It's not perfect, but it's better than only having negative influences in your life.
Some of my favorite authors are  Les Brown, Brian Tracy, and Wayne Dyer.
Some positive You Tube channels that I also love are TED talks, Mindvalley Academy, Jubilee Project and Soul Pancake. Or just check out your own favorite authors/celebrities and watch their interviews.
2.Try scheduling out your day.
Don't you feel purposeful when you have things scheduled? You might have to be running around but you're keeping busy. Laying around and having nothing to do will not help your mood out when you're depressed.
Try scheduling out your day. Also add to your schedule tasks that you look forward to doing. It could be anything from cleaning out a room in your house or organizing a closet, going out to lunch with a friend (also helps with #1), or creating a small "to-do" list for the day. What are some things you have been putting off? Put on your to-do list one step that will get you closer to that one thing. For example, if you've been putting off organizing your closet, the first step you could schedule is getting garbage bags ready for the garbage/donation pile.
Having a schedule will give you a sense of purpose and will slowly get you motivated. It's not overnight, but stick to your schedule and you'll see a difference.
3.Exercise.
I know, you probably are tired just thinking about it. But this does not have to be going to the gym and lifting weights. Check out my post on creative ways to fit in exercise without going to the gym here.
Exercise is natures mood lifter. We release chemicals in our body when we get our heart pumping from physical activity, which gives us energy. One of the best physical activities you can do when feeling down is going for walks in nature. This could be the park, woods, or the beach if you live near one.  There's something about being surrounded by trees and/or water that grounds us.
If you're not lucky enough to live near a park, try stretching out your body. You could even follow along to a beginners yoga video online. The point is to get your body moving and slowly start lifting your energy.
If you liked this post, share it with your friends. And remember to subscribe below to continue regularly getting great posts like this one.
About the author.
Liza J Alvarado is a professional counselor in private practice. She serves Adolescents, young adults, and Spanish speaking families in Lehigh Valley, PA.