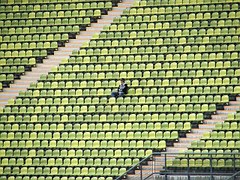 4 Ways To Stay Motivated When You Have No Support From Friends or Family
How many times has this happened to you? You're excited about a new opportunity or an idea that you want to pursue, so you share it with a family member or close friend. But instead of sharing your excitement, they start pointing out all the negatives and it kills your positive vibes. Their comments plant negative seeds in your mind and now you start to doubt yourself. So you just decide to give up before you even try.
It could be that you want to start getting up earlier in the mornings and begin to exercise. They'll point out how hard it is to wake up so early. Maybe you want to change your job for a better one, they'll point out how risky that is. Or you want to move somewhere new where there may be more opportunities, and they'll point out all of the risks.
Any time you try to improve yourself, there will almost always be someone who is not as excited as you and will try to bring you down. Sometimes they do it on purpose out of pure jealousy. But most of the time they point out all the negatives because they think they're helping you. You can read more about why it doesn't matter what other people think of you here.
The good news is that it is always completely up to YOU, not anyone else to make things happen. You don't need anyone's approval to pursue whatever it is you want to do. So in the mean time, try some of these tips to stay motivated in pursuing your goals, even if you get no support from those around you.
Focus on the things you have control over, not what others are saying/doing.
When you're pursuing something that you want, you have to learn to have tunnel vision. That means reminding yourself of why you want to pursue this goal, and ignoring any distractions. At first it might be hard to ignore negative people. But it's actually easier than you think. You literally act like you can't hear them. The best thing to do is not tell these people what your goal is in the first place. But if some how they find out and want to add their opinion, keep the topic of your goal short and change the subject quickly.
Instead of wasting your time and energy focusing on what others are saying, use that time to plan and take the steps necessary to pursue your goal. When you're so busy pursing your goal, you have no time to pay attention to the negativity.
Keep a positive attitude.
It's extremely hard, almost impossible, to achieve a goal when you have a negative attitude. Letting other people's opinions bring you down is giving them power over you.
So you have to do whatever it takes to maintain a positive attitude. Try keeping a picture of your goal as the screen saver on your phone, or having positive quotes in your planner and on your night stand.
Practice gratitude every day to build a buffer against negativity and increase a positive attitude.
Take care of yourself physically.
I believe health is the foundation of true success. What's the point of you reaching your goals, if you're not healthy enough to enjoy it? Having little support can easily bring you down. If  you feel sick and tired, that makes it much easier to let those negative comments get to you.
When you feel good, you have energy to do things, and it's so much easier to stay motivated.
Make sure you're exercising, drinking plenty of water, eating a balanced diet, and not skipping meals. Here are some tips on exercising without going to the gym.
Be selective of who you share things with.
If you feel the need to tell someone your goal, make sure it's someone that has been supportive in the past and you trust that they won't judge you. If you don't have anyone in your life that is supportive, join online groups where you can get some encouragement from complete strangers. Depending on your goal, there may be specific online support groups on that topic.
Remember, ultimately it is up to you to improve your life. No one is going to hand you things, you have to make it happen. You don't need the approval of anyone to go after what you want. Stay strong, stay positive, and you'll see how you can make anything happen that you set your mind to.
If you liked this post, share it with your friends. And remember to subscribe below to continue regularly getting great posts like this one.
About the author.
Liza J Alvarado is a professional counselor in private practice. She serves Adolescents, adults, and Spanish speaking families in the Lehigh Valley, PA area.