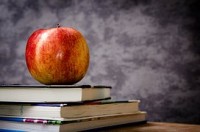 It's  that time of year again! The one where parents typically look forward to and kids want to forget. Back to school. Over the summer, kids can get off their routines. Sleep schedules are very different, and for working parents, trying to figure out what to do about childcare/supervision can be very stressful. But it's time for everyone to get back to their routines. Make the transition back to school as smooth as possible with the following practical tips.
Lead by example by showing excitement. Stress to your child that this is an exciting time, although they might not show it.  Starting a new school year is a step closer to starting middle school, high school, or graduating. Focus on the positives of this time of year. If your child is feeling Anxious about starting school, listen to their concerns and suggest relaxation techniques. If your child has experienced bullying or a difficult previous year, make sure to address this with the school.
Organize a get together for your child and some of their friends. Besides fundamentals, school teaches one of the most important skills we need, socializing skills. Think back to when you were in school. What are some of the  memories you had? Do you remember in detail the day you learned cursive, or how to do algebra? Probably not. But I'm willing to bet you remember an embarrassing moment, having fun at the pep rally, or the time the class clown made you laugh so hard you almost peed on yourself. That's because school is about socializing. Having a small get together before school starts reminds your child of what they've been missing, and could get them excited about going back to see friends again.
Attend open houses if possible. Getting familiar with teachers and the school building will prepare students on what to expect. It also helps to get familiar with the building without the crowded hallways.
Let your child pick out their own school supplies and outfits. (at a reasonable price of course) You could even choose several items that you approve of, and have them choose from the ones you picked out already. This will give them a sense of control.
Get back on normal sleep schedules at least a week before school starts.  Don't expect them to be able to fall asleep quickly when they've been used to staying up past midnight, and then all of a sudden having to go to bed by 9 pm. Get their bodies adjusted to waking up early again by slowly cutting back on bedtimes. If they've been up until 12 am, enforce going to bed by 11:30 pm and so forth. The same goes for waking up. If they've been sleeping in until noon, enforce them waking up by 11 am.  The majority of the students I work with express liking school, but hate waking up so early. Having a good nights rest ensures that they feel rested and complain less about waking up early in the morning.
Have everything ready the night before. This should be part of your every day routine. Have your child pick out their outfits and have backpacks ready and by he door the night before. This cuts down on rushing in the mornings trying to figure out what to wear or looking for supplies to put in the backpack. You could even ask them what they want for breakfast the next morning. The more streamlined your mornings are, the better it will be for everyone.
Discuss with your child goals they would like to achieve for the upcoming school year. It can be anything from joining a certain club, sport, or getting Honor Roll. Or even working on getting homework done right after school instead of waiting until the last minute. Having goals can give them something to work forward to, while also helping to build their confidence.
If your child is having a really hard time adjusting to school or having anxiety attacks in the mornings, that's a sign to get professional help. It's important to find the right therapist to teach them the coping skills needed to deal with these symptoms.
If you liked this post, feel free to share with your friends. And if you want to receive more posts and resources I share, remember to sign up for updates.
About Liza J Alvarado, MS, LPC
Liza J Alvarado is a professional counselor in private practice. She serves Adolescents, young adults, and Spanish speaking families in the Bethlehem, PA area.